Detailed Moosend Review 2023 – Price, Features, Pros & Cons
What We Like
Extremely easy-to-use
Provides great value-for-money
Great customization & targeting features
CSA Certified - Ensuring high email deliverability
Ready-made templates, drag-and-drop form and page builders
What We Don't Like
Drag & drop builder may sometimes break
Does not offer a free-forever plan
To make things simpler for you, in this detailed Moosend review, I will provide you with all the relevant details of this new player in the market which has caused some ripples in its niche. I'll show you its features, pricing, pros and cons, alternatives, how is it different from its competitors and most importantly, whether is it even the best for your email marketing needs.
With so many email marketing software sprouting every other day, it becomes difficult to keep track of each one of them. One way to deal with this influx is that you can choose one and then stick to it. Ignore all the others but what if a new one offers a lot better features at a better price than your existing email automation tool?
Therefore, you need to have complete information about all these newcomers, their features and their pricing so that you can compare them with others.
Hence, I am writing this comprehensive and detailed Moosend Review with the objective that once you've gone through it entirely, you will be in a much better position to decide if Moosend is the best fit for your business.
So, before starting the review, please note that this article contains affiliate links and I may get compensated if you follow any link and then make a purchase.
Moosend Review
What is Moosend?
Simply put, Moosend is an affordable email marketing service and automation tool that helps you grow your online business by capturing and nurturing leads and sending out (automated) newsletters to your subscribers.
Their main USP (Unique Selling Point) is the claim that they are the "Easiest Email Marketing Software"
Of course, that's not it and we will have a detailed look at Moosend's features below and along with that, we'll also examine how much water their claim of being the easiest email marketing software holds, but before that, let's see Moosend's pricing and how much it actually costs.
Moosend's History & Founder & Financial Information
Moosend was founded back in March 2012 by Yannis Psarras who, although originally Greek, chose to base his company's HQ in the UK.
Later, a prominent internet services company, Sitecore, which specializes in providing Content Management Systems to its users, acquired Moosend back in 2021. Although, the actual amount hasn't been revealed anywhere but Moosend's founder claims that the acquisition was part of Sitecore's ambitious growth plan of $1.2 billion.
As of 2023, Moosend has more than 700 paying customers which doesn't sound too much but their annual revenue peaks at $3 million.
The numbers aren't too high but given the fact that Moosend is relatively a newer player in the highly saturated arena which has been recently acquired by a big group, one can expect this number to go up in the coming years.
Right now, I won't be surprised even if Moosend books are showing a net loss as their bottom line.
Moosend Pricing – How Much Does Moosend Cost?
Moosend claims to be an affordable email marketing solution for online business owners and internet marketers and while this claim sounds to be genuine to some extent, the matter of fact is that Moosend's pricing can get a little bit confusing.
For starters, Moosend has two payment policies:
A periodic subscription payment (monthly or annual) — Pro Plan
A Pay-As-You-Go (PAYG) — Credit System
The least amount that a Moosend user has to pay (Pro Plan) is $9/month for monthly billing or $7/month for annual payments. Therefore, at the end of the day, how much you end up paying depends on 2 factors:
Number of subscribers and
Billing frequency (monthly or annual)
For even larger clients with rather complex marketing requirements, Moosend also offers an Enterprise Plan. The price of this plan depends on the requirements therefore, a user has to contact Moosend's team to work that out.
You can try Moosend's using the 30-day Free Trial period — No Credit Card required — Just click here
In addition to the usual subscription-based pricing model, Moosend also has a Credit system which I have explained below:
Difference Between A Subscription and Credit-Based Billing — What Are Moosend Credits?
As you're expecting, the subscription-based billing system is when you pay Moosend after regular intervals. These intervals can be monthly or annually.
The credit system is a prepaid billing system where you buy credits beforehand and consume them ONLY when you use the Moosend features.
In my opinion, the credit-based billing system allows flexibility, especially for newbie marketers whose internet marketing efforts are not regular.
A user on a traditional recurring billing system has to pay even if he doesn't use the services, whereas, the credit system provides users with the flexibility to only pay when they actually consume any of the Moosend's features.
This means that you can literally go on a hiatus or completely go "off-the-grid" putting a pause on your email marketing and still, don't have to worry about Moosend taking money from your bank.
Once we have that out of the way, let's see how much will you have to pay if you decide to opt for a recurring billing system and what features are available against each payment plan.
Difference Between The Free, PRO & Enterprise Plans
Although limited but a huge upside of Moosend's free trial period is that users have access to ALMOST all the features.
I wrote almost because there are only a few features that users on a free plan either do not have access to or only have a downgraded version of it. Some of these are:
1. Transactional Emails
Users on a trial period cannot send transactional emails to their subscribers. Read more about the transactional email feature below.
2. Marketing Automation — Triggers
Although the available set of triggers is more than enough but users on Free Trial and Pro accounts cannot use the "When someone browses any page" and "When someone views any product" triggers.
3. Custom Reporting
Users with PRO accounts do not have a custom reporting feature but those on a FREE Trial have 1 with 10 widgets. Effectively speaking, this feature is reserved for Enterprise account holders.
4. Support & Services
Users on the Trial period and PRO plan do not have access to some of the support services such as SMTP server (read about it below), dedicated IP, etc. In order to get all these features, a user has to upgrade to the Enterprise level.
5. Staff Support & Accounta Management
For obvious reasons, Enterprise users have access to the priority support and can manage a team of more members as compared to the users on the other plans.
Moosend Features & Benefits
Moosend offers tons of valuable features to aid your email marketing campaigns. From complete automation to compliance with local laws and regulations. From ensuring maximum email deliverability into your recipients' inboxes to offering pre-designed templates to give you a head start, Moosend has it all covered for you.
Let's have a look at the plethora of Moosend's features that it offers and how they can benefit you in your online marketing campaigns.
#1. Set Up Power Email Sequence With The AutoResponder Feature

Do you want to grow your email list? Do you want to nurture your leads and turn them into customers? If so, you need to use Moosend's autoresponder feature.
Moosend's autoresponder feature lets you create powerful sequences of emails that are automatically sent to your subscribers based on specific triggers (read more about triggers below). This means you can nurture your leads and customers over time, without having to lift a finger.
All you have to do is to set up autoresponders once and That's it! Once you've set up your autoresponder sequence, Moosend will automatically send the emails to your subscribers. 100% on auto-pilot.
Here are just a few of the benefits of using Moosend's autoresponder feature:
Create custom email sequences that are tailored to your specific needs.
Use triggers to send emails based on subscriber activity.
Track the performance of your email sequences so you can see what's working and what's not.
Extremely easy to use and set up, even for beginners.
#2. Simple Drag & Drop Editor to Design Beautiful Email Newsletters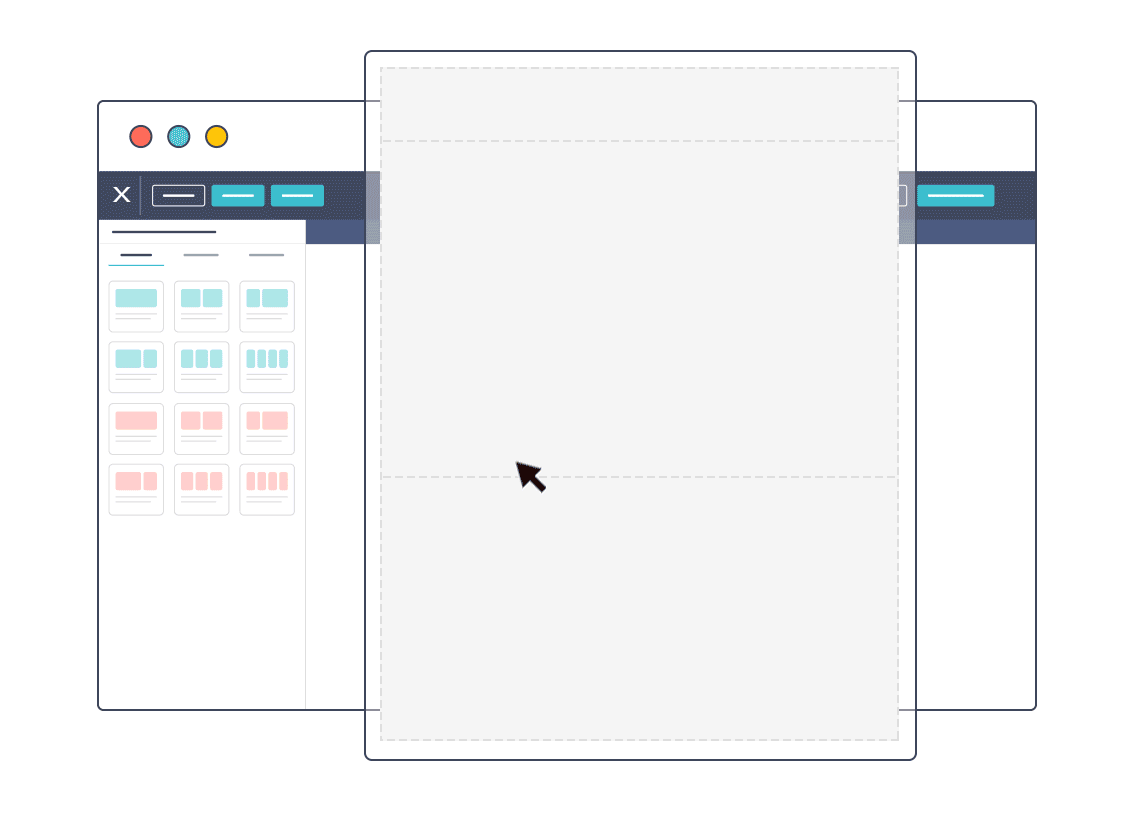 Don't know HTML or other complicated designing tools?
No problem!
With Moosend's beginner-friendly interface, you can easily design eye-catching email newsletters using the simple drag & drop feature.
You can easily add images, videos, and various interactive elements into your emails, without requiring any HTML expertise. Using your designing skills and Moosend's pre-designed email templates you can easily create successful email campaigns that perfectly suit your marketing requirements.
It's as easy as that!
From real-time preview to the basic barebones of HTML, easily transition between the various modes of Moosend's editor to keep track of all the design changes that you perform.
With Moosend's Drag & Drop editor, you can:
Use ready-made, professionally designed, beautiful templates that look enticing on all devices
Add the perfect image or GIF to your message with Moosend's Image Picker Editor
Send the right email to the right person by personalizing using triggers and conditional blocks — Read more about personalization below
Easily add videos, images, countdown timer and any other element that will increase engagement
Add team members to work on a single newsletter — Read more about Team Management below
A/B split test your newsletter before sending the best one to your entire list — Read more about A/B split tests below
#3. Marketing Automation Using Workflow Management & Triggers
Automated Emails are a series of emails that a business sends to its subscribers on an automated basis. These emails are triggered based on different events such as email form subscriptions, link clicks, cart abandonment, etc.
You can easily set up and send automated email series using MooSend. The process is not only simple but Moosend provides predesigned templates so a user doesn't have to start from scratch.
These "Trigger" templates are based on the following events.
Although the above ready-made triggers are more than enough to address your normal marketing needs, however, you can also set up your own customized triggers in Moosend.
#4. Choose from Hundreds of Pre-Designed Templated For Newsletters & Landing Pages
In addition to the simple-to-use drag & drop feature above, Moosend provides you with hundreds of predesigned beautiful templates that you can use for designing your email newsletters or landing pages.
These templates are not only professionally designed and pleasant to the eyes but also compatible with all devices and most importantly, have healthy download time.
#5. Easily Track Detailed Information Of Your Email Marketing Campaigns
Moosend provides a comprehensive overview and tracking capabilities for all email marketing campaigns. These tracking capabilities allow users to observe the hidden patterns and fine-tune their marketing efforts to address these changes for maximum gains.
Here's a helpful video that shows how effectively you can track and manage email campaigns on Moosend:
Let's have a cursory look at what else Moosend's email tracking can do:
Overview of all marketing campaigns — Instead of having to dive deep into the specifics, you'll get all the information in one place
Keep tabs on vital metrics such as, unique and total open rates, click-through rates, bounce rates, forwards and unsubscribes.
See complete customer profiles — You can see which subscribers opened which email, what they clicked on, and so on (telling you exactly what each customer cares most about!)
Heatmap analytics — This lets you easily see the clicks and results from all of your email marketing campaigns and automation so you can know what your customers like most
#6. Reporting & Analytics
With Moosend, you get handy default reports to enhance your campaigns, boost the effectiveness of your newsletters, and achieve your email marketing objectives. These reports provide valuable statistics collected from the campaigns you send through your Moosend account.
They are a vital tool in your email marketing arsenal, helping you track progress and make improvements along the way.
Not only can you track the progress of your email marketing campaigns by using Moosend's standard reports but can also create your own customized reports.
Moosend's reporting feature allows you to:
Track the performance of your email campaigns
Create custom reports
Share reports with other team members
Export data from custom reports
Here are some of the reports Moosend provides.
Campaign Reports
Performance Overview
A/B Test Reports
Track recipient activity
Track link clicks
Track email clients and devices
Track activity by location
#7. Integrations
Moosend offers seamless integration with native and 3rd party apps.
To add synergy to your marketing efforts, you can integrate Moosend with over 100s of third-party or native apps.
Moosend's ecosystem already offers more than dozens of native and third-party apps integration using Zapier.
These apps span over a multitude of different niches. From CMS to E-Commerce, from CRM to Lead Generation, Moosend allows you to seamlessly connect with hundreds of different platforms so that your business keeps on running smoothly.
#8. Subscription Forms
Subscription forms allow you to quickly grow your email list, collect additional information from your subscribers and enhance engagement.
Moosend provides you with a library of different ready-made subscription forms that are visually appealing and easy to use and you can easily integrate them into your landing pages or websites.
To make it even simpler, in addition to the ready-made templates, you can design your own customized subscription forms using the drag-and-drop feature.
Moosend provides you with 6 different kinds of subscription forms. These are:
Pop Up
Inline
Floating Bar
Floating Box
Full Screen
Promotional Pop-Up
#9. Professionally-Designed & Customizable Landing Pages To Kickstart Your Email Campaigns
Landing pages are special web pages that help you promote your business or products more effectively. They work amazingly well with emails because they give your customers a clear and simple direction to follow, making it much easier for them to take action, like signing up or buying something.
Also known as Bridge Pages, landing pages have become almost mandatory especially for Affiliate or CPA Marketing because many platforms (such as Facebook, Google, etc) do not allow direct linking to the offer pages. So the marketer first has to drive traffic to the landing page and then to the main offer from there.
Therefore, having attractive landing pages that most importantly, download quickly on the visitors' browsers is paramount to achieving higher conversion rates.
In addition to the library of beautifully and professionally designed templates, Moosend provides drag-and-drop features to customize landing pages. These landing pages are lightweight and look good on every device thus allowing users to achieve more conversions.
Here are some of the extra features that you can use on Moosend's landing pages
Facebook & Google Analytics Pixel Tracking — to create more relevant ads and highly targeted landing pages to give maximum returns against each penny spent
Custom Javascript Options — to add your own custom features
Custom Fonts — to add more design options to your marketing campaigns
GDPR compatible
Spam Protection — Anti-bot protection for your landing pages to prevent DDOS attacks and other attempts to slow down or prevent actual users from accessing your landing pages
Free SSL — to give you additional encryption of your data
etc.
#10. Hyper-Personalize Emails & Marketing Campaigns Using Advanced Segmentation & Other Targeted Features
Segmenting your email lists allows you to send highly targeted emails to your subscribers which in turn, improves the open and click rates. Thus your email campaigns conversion ratio improves by many folds.
Moosend offers some advanced segmentation features to design and send hyper-personalized emails to your subscribers.
Instead of just their personal details, advanced segmentation allows you to segregate subscribers based on their activities and actions.
Since these activities update in real-time on Moosend's server, you don't have to worry about any "lagging" response to your subscribers' activities.
In Moosend, you can create segmentations based off of:
Date Added — Create a segment based on when a subscriber signed up
Recipient Name and Email
Recipient Email
Number of campaigns Opened and/or Clicked
Subscriber's System Configuration — Device Type, Operating System, Email Client, Web & Mobile Browser
Subscription Method — Subscriber opted in or was imported
Product viewed, purchased or simply added to the cart
Clicked or simply opened a specific campaign
etc.
To top it off, advanced segmentation is just one of the features to create laser-targeted campaigns. There are a few more tricks up in Moosend's sleeves to create even more targeted campaigns on an automated basis.
Such as Advanced Conditional Blocks
What Are Moosend Advanced Conditional Blocks?
The conditional blocks allow you to add personalized nuances to your email campaigns by inserting dynamic details relevant to the individual subscribers.
So how do Moosend's Conditional blocks help in Email Marketing? You may ask!
Using Conditional Blocks, you can create and send emails based on your subscriber's background. All you have to do is to add special characters and Moosend will do the rest.

For instance, suppose you've just added two new products to your e-commerce store. Shoes for men and women and you want to create a highly targeted email campaign where the females in your email list will see only female shoes and men will only receive email related to Men's shoes.

Using the conditional blocks, you can display or hide content based on your subscriber's gender. This way, you won't have to design two different emails while also making sure that your open and conversion rates skyrocket.

A huge time-saver, the Moosend conditional blocks feature allows you to add 10 conditions per block thus delivering personalized targeted content by choosing to show different visuals, email copy, products, and more based on what you have in mind.
#11. A/B Split Test Your Emails Before Sending Them To Your Subscribers
The A/B split testing feature allows you to send different versions of the same email to a limited number of your subscribers to test which version of the email performs better. This way, you can fine-tune your email campaigns and gain maximum out of it.
In Moosend, you can define a test group and a winning group and then send the different "test" versions of your email to the test group. Once you have the results, you can then send the best-performing email to the winning group.
Here's what you can do with Moosend's split A/B feature:
Test different versions of your email based on Subect Line, Content and From Name
Define the number of subscribers both in the Test and the Winning Group
Define the criterion of a winning email — Moosend allows you to define what a winning email is based on:

The one with the highest number of unique opens
The one with the highest number of unique clicks
#12. SMTP To Send Transactional Emails
If you are sending transactional emails such as, such as an order confirmation, a password reset, or a shipping notification, etc., it is important to use a dedicated SMTP service.
SMTP (Simple Mail Transfer Protocol) is a reliable protocol that is designed to deliver emails quickly and efficiently. It is also a well-known protocol, which means that most email servers support it.
If you're not on a 30-day free trial period then Moosend provides a direct SMTP service that allows you to integrate it with your current applications or use it to send transactional emails directly through your preferred SMTP client. To make the most of Moosend's SMTP service, you need to connect your account to either your application or SMTP client first.
#13. GDPR Compliance
All of Moosend's opt-in or subscription forms are 100% GDPR compliant and provide users with the features to keep their email marketing campaigns totally in line with this Data Protection Act to avoid any penalties or bans.
A Moosend user can display relevant disclaimers and checkboxes to seek the full consent of their visitors thus making sure that they are not in breach of this data protection regulation for their European visitors.
To stay completely adherent to the GDPR Requirements, Moosend provides the ability to:
Create Double Opt-in subscription forms to seek complete consent from the subscribers
View the double opt-in verification status of the subscribers
Verify existing subscribers for GDPR
Archiving and deleting subscribers
#14. Use E-Commerce AI To Increase Your Conversions & Send Your Sales Through The Roof
I've already mentioned about the integrations above. However, Moosend's features to support your e-commerce business don't end there.
There are tons of other complimentary features as well that can not only skyrocket the sales of your online store but also help in developing a long-lasting relationship with your visitors and turn them into paying customers.
Here's a glimpse of what you can achieve through Moosend's e-commerce AI features:
Send automated cart abandonment emails using advanced segmentations and conditional blocks
Send targeted marketing campaigns to your (potential) customers based on different parameters
Track and manage your contacts all from one place
Send relevant product recommendations to your prospects based on their backgrounds and turn them into repeating customers
Map out how your customers go through your business. Make your inside tasks easier and aim better using Moosend's single-customer view. It shows all the important things for your business.
#15. Manage Team Members & Easily Share Campaigns With Your Marketing Team
For security purposes, it wouldn't be wise to provide the same login details and access level to each member of your team. Therefore, Moosend allows you to create different accounts for each team member and assign them different roles based on their responsibilities.
Moosend allows you to create and assign 6 different roles for your team members:
Admin — Admins have access to everything
Admin Observer — Admin Observers can view everything everywhere, but they can't save any changes.
Manager — Managers have full permissions for the specific account you added them to.
Viewer — Viewers' permissions are only given for a specific account. They can't save any changes and have no access to Account or Billing
GDPR Viewer — GDPR Viewer can't see any subscriber personal data
Designer — A Viewer, who can also save inside the Campaigns and Landing Pages designer
This feature is only available to the users on the Pro and Enterprise Plans where they can add 5 and more than 10 team members respectively.
#16. Dedicated IPs For High Volume Email Senders
A dedicated IP address is an IP address that is assigned to only one sender. This is in contrast to a shared IP address, which is used by multiple senders.
When you send high volumes of emails, it is important to use a dedicated IP address. This is because a dedicated IP address will help you to build a good reputation with email providers. If you send emails from a shared IP address, and other senders on that IP address engage in spammy or risky behavior, your emails may be blocked or filtered.
With a dedicated IP address, you are the only one responsible for its reputation. This means that if you send high-quality emails and follow best practices, you will be able to build a good reputation with email providers. This will help your emails land in the inbox, and it will also help to improve your deliverability rates.
At Moosend, Enterprise Level clients that send a huge volume of emails (more than 300,000 per campaign) can request a dedicated IP. In fact, in many cases, you don't even have to make a request. Moosend keeps an eye on your email activity and will automatically assign you one if they feel this will be beneficial for your campaign.
Having said that they keep a constant lookout for the dedicated IP requests from their users as well.
#17. 24/7 Live Chat Support
Moosend's support is quite rapid. The users have access to 24/7 live chat support. Just in case you're not able to solve your issue. In fact, I used their live chat support to solve an issue. It took 1-2 minutes for the agent to respond the first time and from there, all her responses were prompt and she stuck with us until the issue was resolved.
That's my personal experience and I believe that on average, this is what their support should be.
Anyway, if you're not in a rush and have a knack for digging things out yourself, MooSend also has a large repository of known issues and their troubleshooting, on their website.
Additionally, you can also lodge your issue on their portal by filling out a form on their website.
That makes a total of at least a 3-dimensional support system for every Moosend user whether they're on a free trial, Pro plan or Enterprise plan. However, Enterprise-level users also get access to the account manager and priority support as well.
They can also benefit from Delivery & Strategy Optimization support where Moosend's experienced team members will guide and assist in creating killer email campaigns that sell.
Moosend's Learning Resource
If you want to get started with Moosend but have no clue where to start, Moosend has uploaded tons of helpful articles, videos, infographics and other useful content to get you up to speed.
Using these helpful guides you can easily not only learn the ropes of Moosend but also get abreast of the latest tips and techniques to creating effective email marketing campaigns.
#18. Certified Senders Alliance (CSA) Certification
Just recently, back in March 2023, Moosend got certified by CSA.
The Moosend and Sitecore Send teams were working on this project for the last 18 months and finally, in March of this year, they were awarded this certificate.
Now what does this mean for a regular Moosend customer?
Well, CSA certification means trust in Moosend's IP thereby, ensuring improved deliverability. The CSA is like an organization that gives a special stamp of approval to people who send commercial emails the right way. When you have this approval, your emails are more likely to reach people's mailboxes, even in other countries, and not get stuck in their spam folders.
Here are some advantages of being a CSA-certified sender:
Send emails faster than before!
Get advantages from warming up your IP address.
Solve email problems with mailbox providers through the CSA.
Improve how often your emails land in people's inboxes.
Use exclusive data to protect your reputation and your client's reputation
Pros & Cons Of Moosend
PROS
Moosend's features are extremely easy-to-use
Their pricing model is quite simple and does not have too many layers of different pricing tiers
Moosend's credit system is perfect for absolute beginners who don't have regular email marketing clients or do not use email automation programs regularly
Great value for money. Moosend's paid plans are relatively more economical than its competitors and provide unlimited emails for just $9/month
Users do not require technical or programming knowledge to create beautiful landing pages or subscription forms
Moosend's support is quite rapid and offers 24/7 live chat support along with other avenues as well to lodge issues such as online resources, ticketing system, etc.
CONS
Does not offer a free forever plan
The range of features is quite limited as compared to its competitors
Works best only for small marketing projects. For larger projects, you will have to switch to its alternatives
The drag-and-drop builder is buggy and sometimes stops responding
There are reports of Moosend having problems with email clients like Yahoo but I couldn't confirm this
What Are Some Moosend Alternatives?
Moosend is not short of its competitors.
In fact, it is the one that barged into the turf already dominated by tons of other email marketing and automation software.
Therefore, you will find tons of other alternatives of Moosend playing tug-of-war with each other for market share.
Although, the list below is not exhaustive but I'll try to list down as many Moosend alternatives as possible.
Here are some of the Moosend alternatives
Who Should Be Using Moosend?
For obvious reasons, not all the products are best suited for everyone. All of them have their services fine-tuned to serve a particular niche with targeted customers.
Sure, others can also use the services but they won't get the best value for their money. Therefore, below is the list of people for whom Moosend will work best.
Similarly, Moosend is best for those who:
Are relatively new in email marketing, however, they have already amassed a few thousand subscribers
Don't want to get their hands dirty with technical details
Don't have a big marketing budget
Don't have extensive email and other marketing requirements and want to stick strictly to email marketing
Don't mind testing newer services
Having said that, if you're a big digital marketing team with a multitude of different marketing requirements or want to associate with a brand that has plenty of years of experience under its belt then you should try GetResponse or check out my detailed GetResponse review in which I've explained each and every feature comprehensively.
Its beginner-friendly UX and UI will help you get easily get started in the email marketing niche which has now become more or less necessary in the digital marketing space.
Moosend Review – Frequently Asked Questions (FAQs)
What is Moosend and how does it work?
Moosend is a relatively newer Email Marketing and automation software that provides its users with the ability to create and automate their email marketing campaigns. Using Moosend, you can create and set up autoresponders and newsletters, collect leads through landing pages and subscription pages, etc..
What are the key features of Moosend?
The key features of Moosend are:
Collect and capture email leads
Opt-in & Pop-up forms for landing pages & websites
Set up autoresponders and send newsletters to subscribers
Design and create beautiful landing pages
Drag-and-Drop based landing page builders
Advanced segmentation and automation features
etc.
How much does Moosend cost?
Moosend's pricing policy is relatively simpler and depends on the number of subscribers and if you opt for paying on a monthly or annual basis.
In its simpler form, if you decide to pay monthly, you can use Moosend for $9/month to $5,840/month for 1 to 1,000,000 subscribers.
If you decide to pay annually, you can claim a small discount by paying $7/month to $4,672/month for 1 to 1,000,000 subscribers.
In addition to the above, if you have even more extensive requirements, Moosend's Enterprise Plan offers even more features, however, you'll have to contact Moosend to get a price quote specific to your requirements.
You can send unlimited emails in all packages.
Does Moosend Offer A Trial Period? Can I Use It For Free?
Yes, Moosend offers a 30-day trial period during which you can try and test not all but the majority of its features. However, Moosend does not offer a free-forever plan, therefore after a period of 30 days, the user has to upgrade the account or he won't be able to use Moosend.
Click Here to start your FREE Trial today.
Is Moosend User-Friendly?
Yes, and that's what their Unique Selling Point (USP) is. Moosend's claim is that they are the simplest email marketing tool hence, their UX and UI are extremely user and beginner friendly.
Does Moosend Provide 24/7 Live Support?
Yes, in addition to the ticket-based portal to lodge issues online, Moosend has a 24/7 live chat facility as well.
Does Moosend Provide Training?
Yes, Moosend's website has tons of useful guides and helpful literature to learn about its different features and how to utilize any of its features effectively. Additionally, their live chat support can help you guide through different processes thus proving to be a great learning source.
Can I track the performance of my email campaigns in Moosend?
Yes, Moosend provides rich and comprehensive reports with granular data to keep you updated about different KPIs of your email marketing campaigns. Using this data, you can easily fine-tune your marketing strategy to achieve maximum results.
Is Moosend best-suited for SMEs or Large-sized businesses?
I believe Moosend is best suited for SMEs and a small advertising team with not-so-complex or diversified marketing requirements. Since Moosend's USP is Simplicity, they have to inevitably cut down on many features and force them to stick with their core features.
Having said that, one can surely expect that leveraging the experience of Sitecore, one can expect that they will gradually steer Moosend toward catering to more complex clients.
User Reviews – What Do Moosend Users & Popular Review Websites Have To Say About Moosend?
I went through the internet just to have a look at what the popular software review websites like TrustPilot or G2, Capterra, etc. have to say about Moosend and how they fare it.
Here's how users on some of the famous software review websites rate Moosend.
| Website Name | Ratings | Total No. Of Reviews (To Date) |
| --- | --- | --- |
| G2 | 4.7 / 5.0 | 547 |
| Capterra | 4.6 / 5.0 | 187 |
| Trust Pilot | 2.7 / 5.0 | 49 |
| Get App | 4.6 / 5.0 | 187 |
| Trust Radius | 4.8 / 5.0 | 23 |
| Average Ratings | 4.3 / 5.0 | 993 |
Truly speaking, I was surprised by the user reviews on Trust Pilot which are comparatively a lot harsher as compared to any other review websites.
However, overall, user feedback for Moosend are positive. I'll include some of these comments and views about the existing and former Moosend users to give you an even better picture.
Positive Reviews
Barring a few exceptions, Moosend, overall enjoys healthy user reviews. Below you can see some of them. The users are particularly happy about Moosend's simple user interface which I have already pointed out above as well
Negative Reviews
Frankly speaking and unsurprisingly, Moosend has its fair share of negative reviewers and disgruntled users. Reviewing these user feedbacks superficially revealed that most of them are not content with Moosend's support. However, there are a few of them showing their disdain about other features as well.
Let's have a look a the sample of these user comments.
Mixed Reviews
I believe that people not taking extreme positions tend to give more honest opinions as compared to those who choose to pick the extreme sides. My experience says that if you want to find some golden nuggets, product reviews with mid-range ratings are what you should look for as they give genuine reviews about the product not driven solely by emotions.
Therefore, I'm sharing a bunch of these reviews below which I believe will give much better insights into Moosend's features:
So What's My Verdict? Is Moosend Legit & Good Enough For Your Time & Money?
So what do I think of Moosend?
Should you be spending your hard-earned money on it or look for alternatives?
Well, I believe that if you're on a shoestring budget and not consistent with your online marketing efforts then you should give it a try. For
Moosend is easy-to-handle therefore, if you're not a fan of exploring and diving into the technical nitty-gritty and keep things simple for yourself then Moosend can be a great fit for you.
Although their limited trial period is a bummer especially when there are other options like GetResponse that offer free forever plans, however, on the other hand, Moosend's credit-based pricing model makes it a perfect tool for inconsistent marketers.
Also, do keep in mind that a low subscription means compromising a few of the features. Therefore, if your requirements are not too extensive then Moosend can be a great fit for you.
Final Thoughts – Why Should You Start Your Moosend's Free Trial Today?
All right, so finally we've reached the end of our highly detailed Moosend Review. I've tried to explore each and every aspect of this email marketing and automation software all the way from its features to its price and from the user reviews to its pros and cons.
I believe that this extensive review will help you decide if Moosend is the best choice for you.
It's a decent email marketing software best suited for those who have simple email marketing requirements with the ability to send unlimited emails to your subscribers. Additionally, it also enjoys healthy reviews among all of the major software review websites.
Just in case you still want to explore more options, you can always check out Moosend Alternatives above or let me know in the comments section if you have any queries not addressed in this Moosend Review.
In the end, if you want to give Moosend a shot and test its features for 30 days straight, you can start your free trial here.